The West Central Association of REALTORS® recognizes the following members during the end of year Installation Banquet and Awards Presentation:
REALTOR® of the Year may be either Salesperson or Broker, only one award will be given. The current president of WCAR shall not be eligible in that year to receive the  "REALTOR OF THE YEAR" award.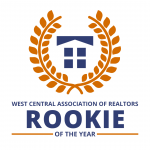 Rookie of the Year must be licensed for a minimum of two years by the first open nomination date and a maximum of five years licensed by the date of the first nominations. This award will go to a Salesperson only.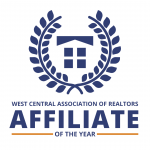 Affiliate of the Year must hold an active membership for the current year.
Upon acceptance, nominees will complete a questionnaire with various criteria, each valued at a set amount of points.
Realtor – last eight years of activities.
Rookie – activities between their 3rd and 5th year as a licensed Realtor®
Affiliate – last five years of activities.
Local, State and National Association Activities
Served as an elected board official
Committee member, Chairperson or Co-Chair
Membership Meeting attendance
Board special assignments
RPAC contributor
Civic Activities
List activities or involvement in civic groups, religious organizations, service clubs, campaigns or political organizations; public offices held; service on local planning, zoning board, etc., for nominee's community
Business & Educational Experience
Real estate workshops or seminars
Designations
Activities that demonstrate professionalism and commitment to the real estate industry
SUBMIT YOUR NOMINATIONS
Nominations are submitted to the board office during the month of September and then each person is notified that they have been nominated and are asked to accept the nomination.
NOMINEE COMPLETES SURVEY
Those nominees that have accepted their nominations are then required to complete a survey detailing their Local, State, National, Civic and Business/Educational activities. See examples above.
SURVEYS COUNTED
These surveys are then shared with two separate out of area Board staff who then tally up the points based on the survey answers. The nominee's names are omitted.
WINNERS ANNOUNCED 
The nominee with the most points for REALTOR® of the Year, Rookie of the Year and Affiliate of the Year will then be announced at our annual Installation Banquet when the new incoming elected officials are announced.
2023 Applications open September 1, 2023.